This post comes from day 12 of my stay at Beth Israel Deaconess in Boston. There's not a lot to do in hospitals and I like food so I figured I'd eat everything on the menu and see if I could come up with additional off-menu recipes using supplies from the kitchen. If you're planning to use this for ordering my food supplier is Sodexo so if you see sodexo or similar menu setup everything should be similar. If you see sysco or a menu that doesn't align send me a pic and I'll help you out. I'll cover my diet, food reviews, tips and tricks, special diets and accommodations, and off-menu creations. I'll also include a sample of the menu with a key at the end ranking food on flavor and portion size so you can order with some hope of not starving.
Cheat Sheet
Always ask for a couple of salts. The secret to most fancy food is salt and fat which hospital kitchens hate. Salt is huge in helping bring your food back to life.
Always remember to order and save your unused condiments. You may use them in recipes below or they may forget them for your next meal. Condiments are king.
Ask to add a multi to your daily medicines, it's tab-a-vite so not massive but can help fill in some nutrition gaps in the menu.
Save your first set of metal silverware. Often, you'll get plastic and metal comes in handy for lots of things.
If you like yogurts order one with most meals. They make a solid snack in-between meals or if your meal turns out wrong or small a solid addition.
The breakfast hash browns aka tater tots are the best potato item on the menu. Anytime you want potato, order them.
Always order a Caesar salad instead of a garden salad or chef salad. Caesar uses romaine lettuce and parmesan and is actually good. You can sub the Caesar with another dressing if you prefer.
Look for sides to make your mains better. You can order bacon anytime of day which makes many things better, crumbled on salads, making the "Second Chance Cookie", bribing friends… but also the romaine from the Caesar salad could be added to your wrap as a better lettuce or as a building block for off-menu stuff like "Tacos from H-E-double-hockey-sticks" recipe below.
Take advantage of the four drink limit. The hospital floor doesn't have coke or diet coke so order a plenty for reserves. Also, the hot teas and chocolate are all in packets so you can order those up and get hot water from the floor to make it when you want it or use it in the recipes below.
You can order your meals in advance for scheduled delivery if you don't like holding or the phone.
My Diet and Diets in General
I was admitted with an awful bone infection with multiple surgeries ahead of me. Blood loss and bone and skin health were the key issues. For the blood loss I went anaemic so I needed to supplement with items high in iron and for bone and skin health I needed protein, vitamin C and D. I eat everything including stuff off the T floor so anything on the menu was fair game. Speak with your nurse about your situation if you're staying long-term so you can work with your care team and the kitchen to get your holes filled. I supplemented with spinach and black olives, by special request as additions, to most meals to help improve iron uptake. If you're gluten-free but can tolerate gluten touching your food you won't starve but if you can't tolerate shared surfaces it's going to be rough. If you're kosher ask for the kosher menu and get ready for lots of eggplant parm as they don't seem to keep much kosher food in stock.
Menu Reviews
The menu is broken down to the usual suspects: Breakfast, Lunch and Dinner. I'll provide an overview of the meals, tips, and items that standout.
Breakfast
Standouts
Breakfast Sandwich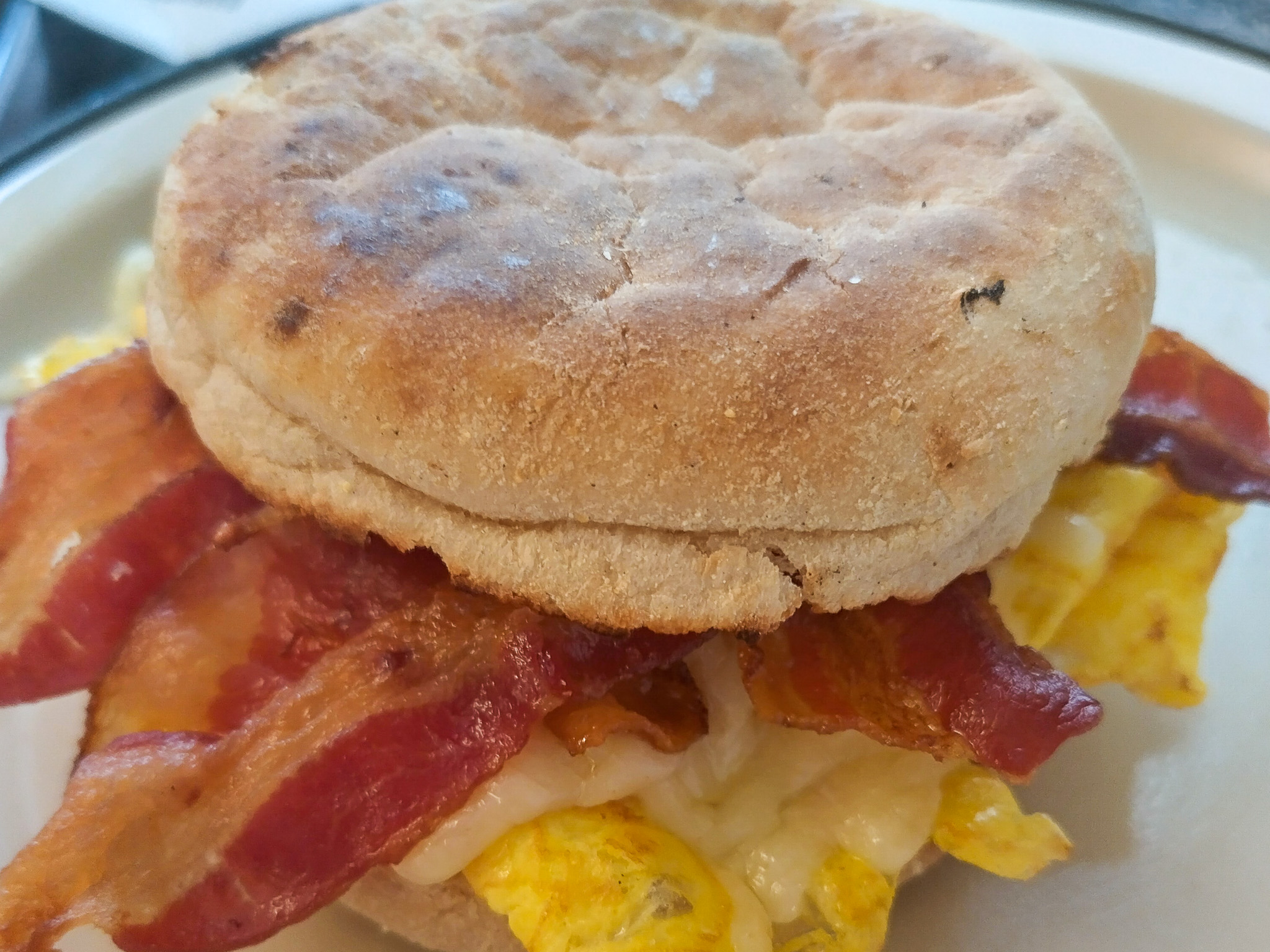 Eggs, White American, Bacon on a toasted english muffin. A high quality version of the traditional breakfast sandwich. They use two eggs worth and do a solid pillow fold for light eggs topped with regular not thin bacon and your classic processed white American cheese for the salt pop you're looking for. It is a touch dry so ask for two ketchup and a hot sauce, maple syrup, or one of the dressing packs. I could happily eat this every day.
Scrambled Tofu (BAD)
Hi, yes I would like the drippings from your dishwasher dyed with tumeric served luke-warm. If animal-based products are not a part of your diet I'm truly sorry. I enjoy tofu and this is a disgrace. They crumbled extra firm tofu, added a ton of tumeric, heated it and plated it. No, just no. It's the worst thing on the menu.
Fruit
The fruit is average at best or in a cup. I generally just worked my greens in through other means.
Cereals & Yogurt
The hot cereals are all average though they provide brown sugar and cinnamon which is a nice touch. The yogurts are your workhorses, decent protein and they're Chobani so decent flavor. I usually order one with most meals. See the "Hospata" recipe below for a delicious horchata-inspired breakfast drink to drown your powder supplements or if you just want an easy to eat breakfast. The blueberries n' cream oatmeal is not quaker but canned blueberries and half n' half creamers with sugar served on the side. Generally, avoid the oats as they come very sad.
Breads, Sides and Sandwiches
The breads are all typical though if you like extra chew the wheat berry has chunks of wheat in it and its my favorite. The muffins are small and average. All of the sides are good except the turkey bacon and the hash browned potatoes are actually tater tots and the preferred potato item for the entire menu. Sandwiches are just shoving a bread including the tortilla from lunch section full of eggs with a meat side and cheese from the omelet section. Feel free to experiment.
Mains
Avoid the scrambled tofu at all costs. The scrambled eggs are roughly two eggs scrambled. The rest are typical and I was unable to taste the difference between the cholesterol free and normal eggs. Buttermilk pancakes were better than the blueberry pancakes. See the recipe below for mambo eggs which is my take on deviled eggs with stuff you can get from the kitchen.
Omelets
Solid omelets though avoid the spinach as it is canned.
Tips
If you need your butter warmed because you don't want to shred your toast, pop your plate in the plate warmer with your knife and put it under. Couple of minutes and the butter will be as soft as your tears after your last IV failure.
Lunch & Dinner
Stand-outs
Caesar Salad
It's a well-flavored green, sometimes you can get orderers that will let you add cucumbers and tomatoes, sometimes not. Regardless, it's actually decent. You can order a tortilla, side of sliced tomatoes, caesar side salad, side of bacon, and the chicken tenders and turn it into a solid wrap.
Hummus & Tabbouleh Wrap
A great base to add additional sandwich items to or eat as is. Their hummus is solid so the whole thing shines.
Macaroni & Cheese
It's actually cheesy and almost scratches that heaps of melted cheese itch. Velveeta like base with breadcrumbs you can't go wrong.
Chicken Pot Pie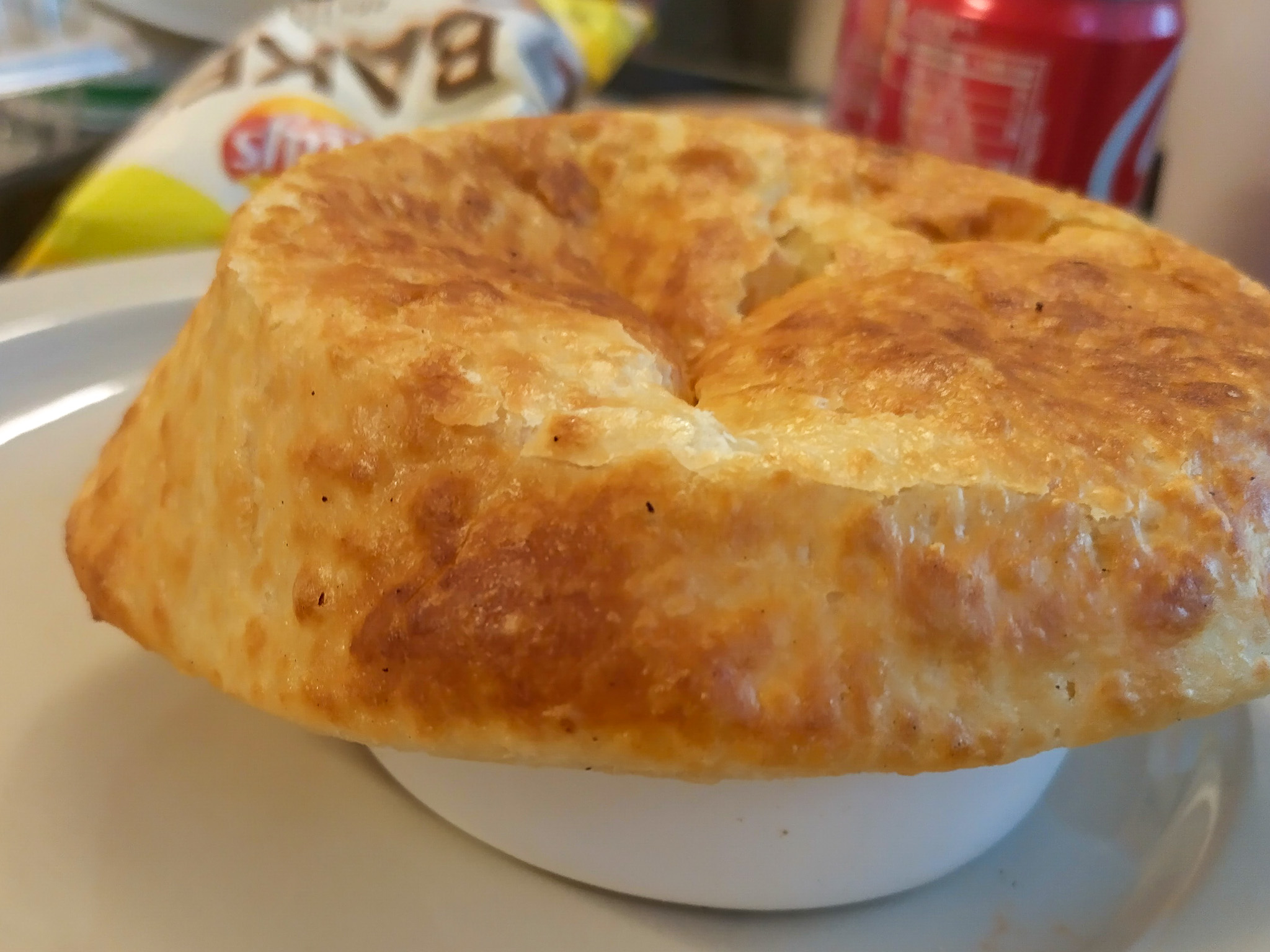 The presentation on this main is amazing. They should put it on the front cover so you're extra disappointed when you get that scrambled tofu. Breast meat, great crust hard to go wrong.
Baked Chicken Tenders
Great for kids and adults alike. Don't forget honey mustard, BBQ or sweet and sour sauce if you plan to eat them alone. They're also great added to things like sandwiches or the mac and cheese.
Carrot Cake
Good balance and solid frosting though more a buttercream which I prefer.
SF Popsicles
Great tropical flavors and a nice way to get some cold in your face. Let them melt in a cola or other drink to mod the flavor nicely.
Tomato Sauce Dishes (BAD)
You'd be better off eating ketchup with noodles than these abominations. If you were to grind junk mail to a pulp and dye it red it'd still be more edible as at least you could play word games while you toil away trying to eat this crap. If you must have tomatoes ask for at least two packs of parmesan cheese, three mrs. dash, olive oil, pepper and salt to maybe resuscitate the monster. For some inspiration for doing alot with a little here's Clara with some depression era cooking Great Depression Cooking – The Poorman's Meal – Higher Resolution – YouTube
Soups
All of the soups are about 3/4 cup or 6 oz servings so use them as a small side. All of the soups and broths need salt and sometimes mrs. dash except the soup of the day usually. All are decent with seasoning. The Fri and sometimes all weekend soup of the day is clam chowder and its better than at least a quarter of the chowders you get in Boston.
Salads
I can only recommend the Caesar salad either side or entree with chicken. Get a different dressing if you don't like Caesar. If the hummus caught your eye you're better off ordering a hummus side, pretzels, and some cherry tomatoes. All of the dressings are Newman's Own so acceptable.
Sandwiches
All of the fillings are fine except for tofu and cheddar LF/LS which is translucent when heated which is frightening. The hummus and tabbouleh wrap is a great base to build a healthy sandwich off of. The zesty italian sandwich is vegan and palatable albeit sad.
Mains
This section actually has enough variety I'm going to just review each except products with tomato sauce. They're so bland you might as well use ketchup instead of tomato sauce.
Grilled Cheese
Be sure to gussy this up with fillings in addition to cheese. You can ask for different cheeses too.
WW Pasta & Meatballs
Tomato. Avoid.
Pasta Primavera
Tomato now with floppy vegetables. mmm.
Macaroni & Cheese
This one is a stand-out as it has bread crumbs and a solid Velveeta base. Note its only a cups worth so you'll want a few sides.
Stir Fry
Surprisingly solid and serves as a solid base.
Herb Baked Chicken; Roasted Turkey Breast; Meatloaf
All solid unsurprising representations of their class, ask for the gravy on the side.
Chicken Parmesan Fresca
Tomato but it tried to fly. Avoid.
Fish of the Day
It's a trap! It's always baked haddock but it's actually good.
Baked Chicken Tenders
A solid workhorse on their own or to modify other menu items. Solid breading and flavor.
Flatbreads
They're personal pizzas, what a lame attempt at being trendy. Nothing surprising here except I do recommend the balsamic chicken pizzetta if that's your bag. Oh and you can order a side of bacon, tater tots, and scrambled eggs if you want to make your own breakfast pizza or gravy and sausage if you want it sloppy; I'm not your boss.
Burgers
BK style with sear marks and a smoke flavor. The turkey burger is edible but not great, the beef is fine, and the veggie is good with a bean base. Make sure you ask for real cheddar if you want that and don't forget your ketchup and mustard.
Accompaniments
This whole section is pretty much worth skipping. It's all canned for the most part or rehydrated. Pretzels are never in and the french fries are awful.
Drinks
All of the drinks are cafeteria grade. Coffee is tolerable, iced tea is bad, and the herbal tea is chamomile. if you want iced tea you're better off asking for five tea bags from your nurse and steeping it overnight in your room in a pitcher of water. Ginger ale and cranberry make an acceptable drink effort for guests. The soy milk is Kikkoman Pearl Vanilla which is solid and the almond milk is Silk. If you're ordering milk be sure to ask for 8 oz cartons as you might get 4 oz cartons.
Desserts
Always get a dessert unless you and all your guests hate sugar.
Cookies
Graham crackers are not cookies… Anywho, all of them are good though surprisingly oatmeal raisin has the edge over chocolate chip for this bakery. Also see the "Second Chance Cookie" recipe if you need a sugar rush.
Bakery
The angel food cake is too dense but if you like things simple it's passable. The carrot cake is the best of the rest though all of the items are small. See "Basement Dweller" for tiramasu take using the Boston Cream Pie.
Pudding / Frozen
All are prepackaged and artificially flavored. Raspberry ice is better than orange and if you don't know what dessert to order the SF popsicles are delicious tropical flavors.
Gelatin
It's violent orange, green, or yellow. Fun to play with but bland as hell to eat.
Recipes or what to do when you're bored
Chocolate Frosting
This is for when you need that sugar rush, celebrations, or you just want to enjoy gluttony. Enough to cover two cookies. Halve if you're lonely looking for love.
Ingredients:
1 hot cocoa packets ( if you've never made frosting before you may want to get two so you can adjust texture easily.)
2 butter
1 cinnamon
1 brown sugar
1 half n half
Pre-Prep
The meal before you want it order two dabs of butter, 1 x hot chocolate packets, 1x half n' half, 1 x cinnamon, 1 x brown sugar. We need everything at room temp to ensure the frosting has some attempt at not being awfully grainy.
Chef's notes
If you want a more sugar base sub some brown sugar for some of the hot cocoa mix in the last mixin.
Cream cheese could work too but is untried.
You can use coffee instead of half n half for a slightly deeper frosting.
Prep
Using your metal fork, take the two dabs of butter and half of the hot cocoa mix and cream in a 4 oz container. You can use the one the cinnamon came in if you don't have one or ask for a plastic cup from the nurse. It'll start out fluffy, looking like this: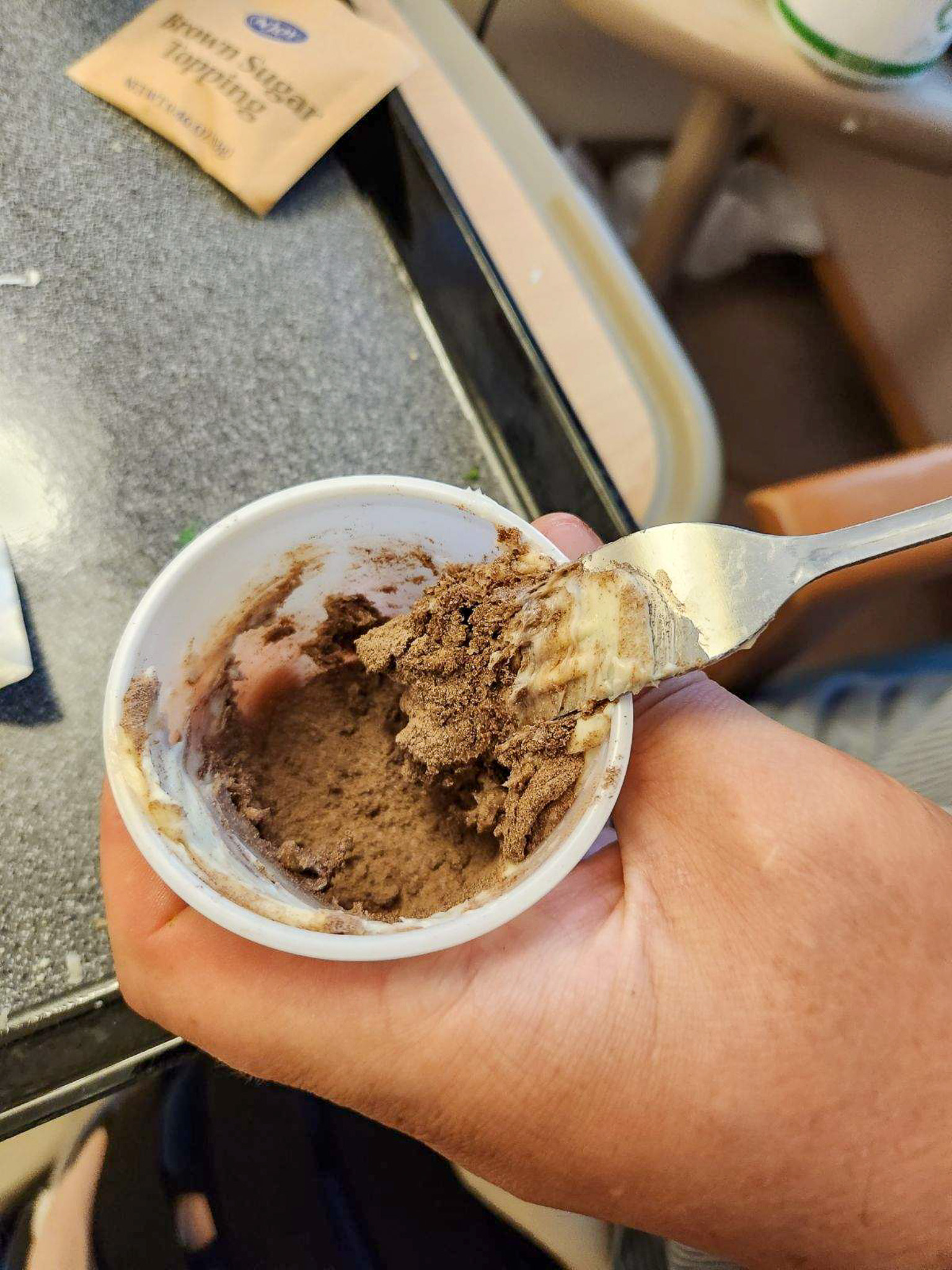 Once you have a solid mass add the rest of the cocoa mix and repeat. It'll be less cooperative so add around 10 drops of half n half and keep going. it should have come mostly together now and you can keep whipping or add more half n half if you want a softer frosting. It'll look like this: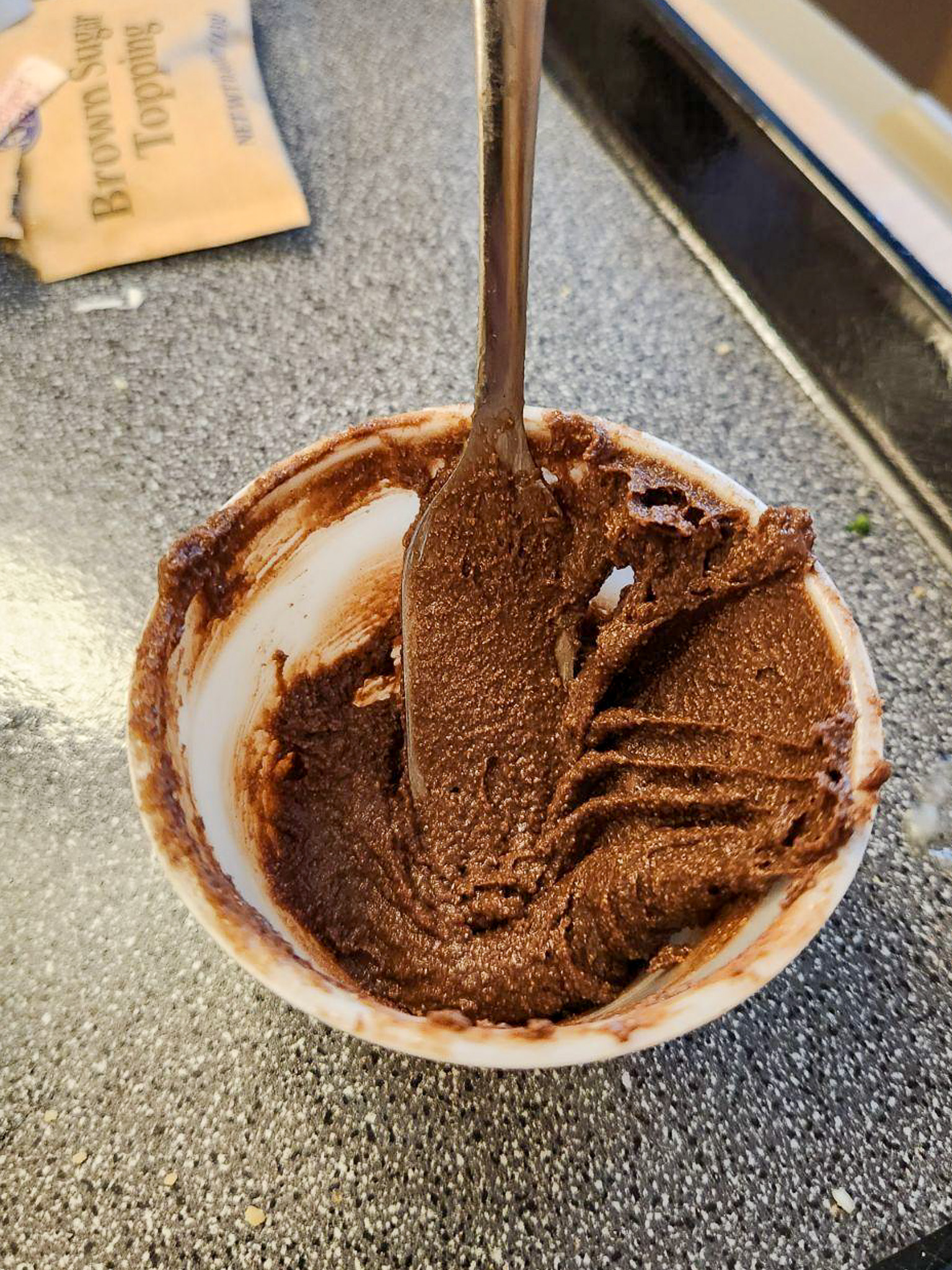 Whip til you're happy with the consistency and you're ready to frost.
Second-Chance Cookie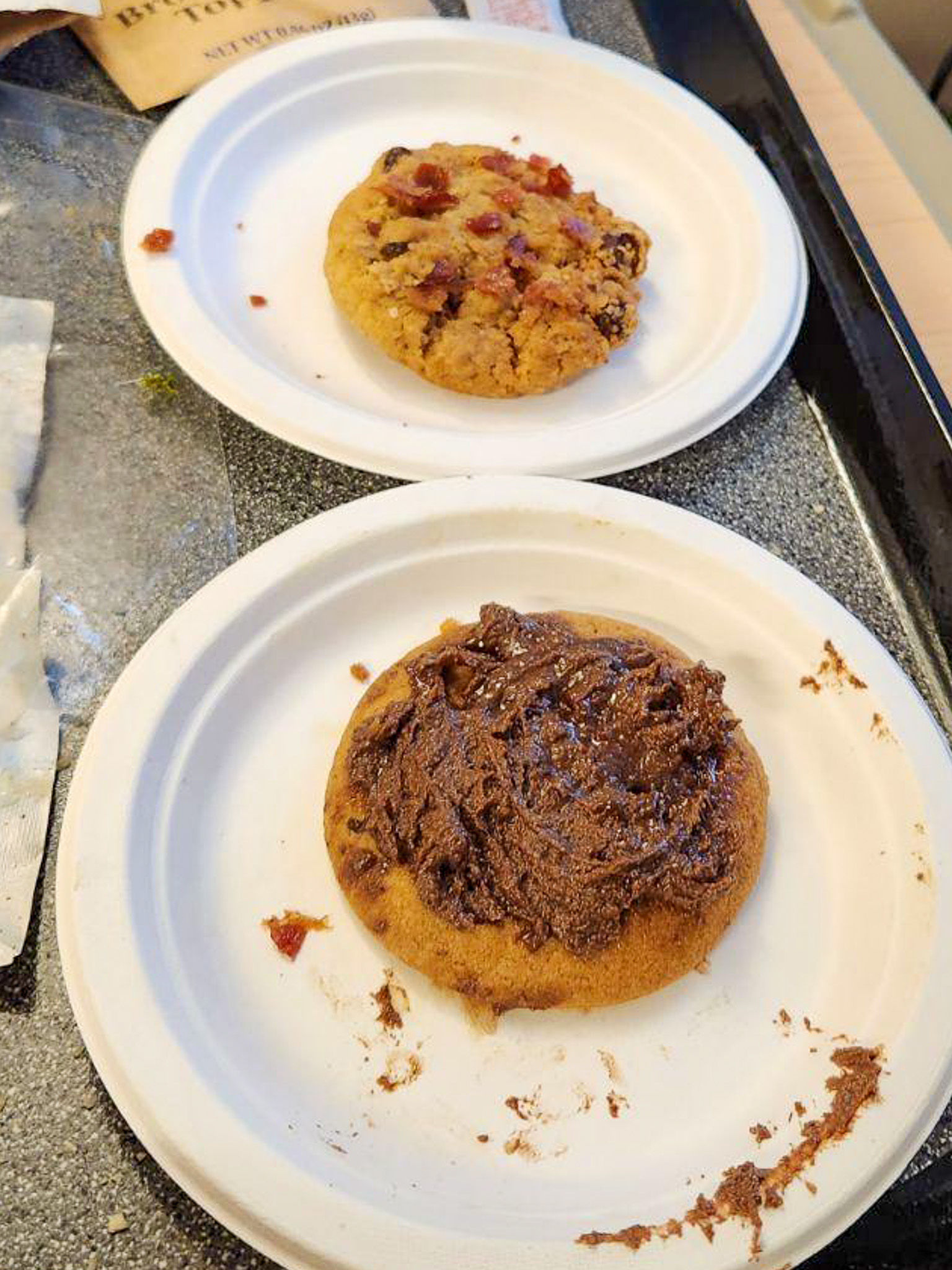 Ingredients:
Chocolate Frosting (above)
2 slice of bacon
a cookie of your choice
Pre-prep:
When ordering the meal you want it with ask for a side of bacon and a cookie.
Prep:
Ask nurse for a small plate. Consider sharing info about the abomination you're creating. Crumple bacon on cookie. Through whatever means necessary ask the nurse to heat the cookie for twenty seconds in the microwave. You can go for thirty if you like it extra soft. Frost cookie encasing the bacon in the frosting. Savor the gorgeous dopamine rush and wonder about your life.
Hospata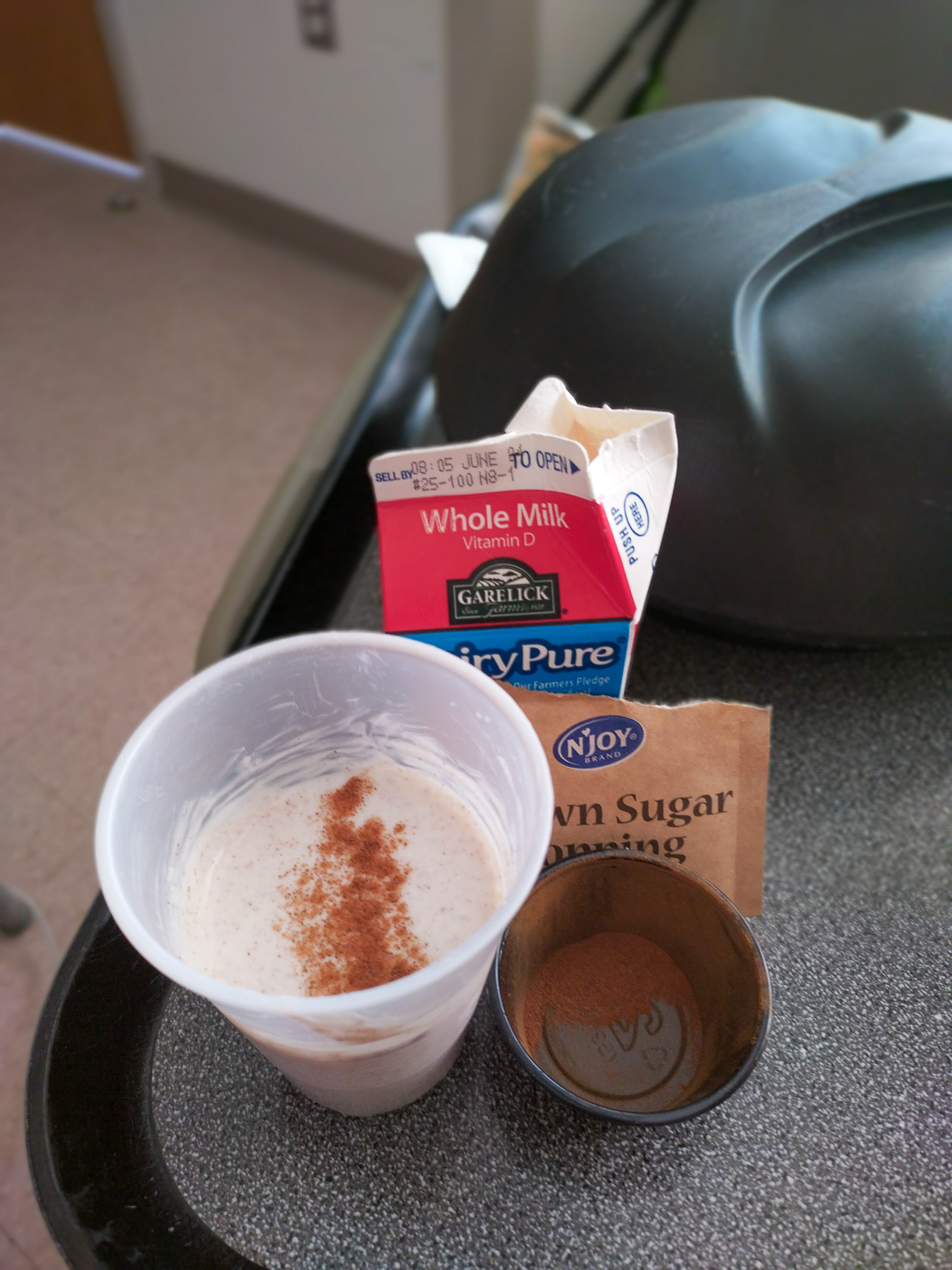 This is a simple version of a horchata-inspired meal replacement that tastes decent for covering up any powders (hi miralax and collagen) you have to consume or if you are either on the full-liquid diet or just want an easy meal.
Ingredients:
1 cream of rice or wheat (you can use wheat here if you want a maltier flavor.)
1 vanilla yogurt
1 cinnamon
1 brown sugar
1 milk ( you can use 3 x half n half if you want it rich or sub coffee but some folks don't like the flavor. )
Ask for the inside sleeve of the pitchers they have on the floor. It's a large translucent cheap plastic container. Add half the cream of whatever, the yogurt, two dashes of cinnamon, 1/4 of the brown sugar and any medical powders you're trying to drown. Stir until well mixed. Add the fluid of your choice a little at a time until you're happy with the consistency. Taste and add sugar or other modifiers until you're happy.
Tacos from H-E-Double-Hockey-Sticks
These aren't actually that bad but if you're hankering for something more than just shoving cafeteria into more cafeteria these at least are hands-on and if a friend brings in taco bell sauce packets pretty good.
Ingredients:
1 x meatloaf (I'm not crazy, the meatloaf is seasoned decently and makes a better meat base than the burger patty in my opinion. You can get the burger instead if you want.)
2 x cottage cheese
5 x hot sauce
3 x ketchup
2 x mrs dash
1 x caesar side salad
1 x tortilla
1 x side of cherry tomatoes
1 x side of white onions
Prep:
When ordering be sure to be clear you just want the tortilla and ask for the gravy on the side for the meatloaf.
Shred the meatloaf using a fork or whatever device/appendage you prefer. I also recommend singing if you've been in longer than five days. Add two hot sauce packets and a ketchup packet if you like wetter meat filling. Taste and add more hot sauce and ketchup as required. Combine the two cottage cheese and add two mrs. dash and stir until combined. Slice cherry tomatoes and mince the onion if you actually got them. (you probably didn't :p) Split the tortilla in half and build your tacos and enjoy.
Mambo Eggs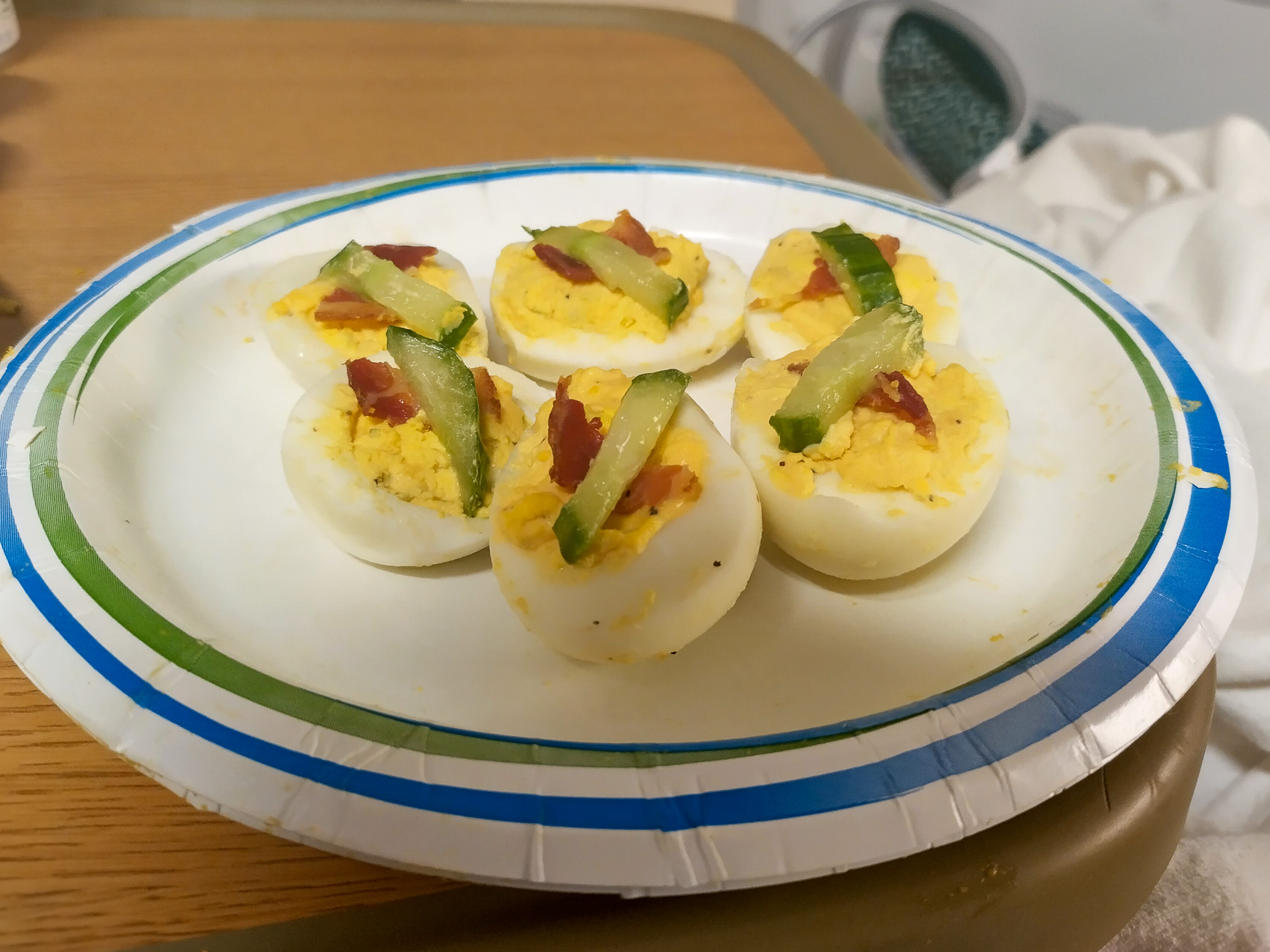 This is a simple deviled egg recipe if you want to play with your food or you have guests and need to entertain.
Ingredients:
3 x hard boiled eggs
1 x side of bacon
1 x garden salad
3 x mayo packets
2 x salt
2 x hot sauce
1 x italian dressing
2 x mrs dash
2 x black pepper
1 x mustard
Prep:
Shell and halve eggs. Empty yolks into a plastic cup and half of all of all of the ingredients above except the italian dressing which you add 1/4 of. Stir until well-combined. Taste and probably add the rest of the mayo and pepper and stir until combined. Taste again and season with whatever you think is appropriate. Spoon mixture back into eggs and garnish with sliced cucumbers, sliced cherry tomatoes, and bacon if that's your bag.
Basement Dweller Cake
This is a tiramisu-inspired layer cake. This recipe requires the most finesse of all of them if you do the slice version but the messy method short circuits some of that.
Pre-prep
If you're doing animal style or want extra chocolate frosting be sure to read the chocolate frosting recipe above. Also, if you're doing animal style, you'll want to order one dab of butter in advance.
Ingredients
1 x boston cream pie
1 x vanilla yogurt
1 x cold coffee
1 x brown sugar
1 x corn flakes
1 x salt
1 x cream cheese if you want to experiment, order in previous meal period so its soft
For animal style:
1 x dab of butter ordered in previous meal
1 x chocolate frosting
1 x half n half
Prep
Slice style:
Ask for two small plates, one pitcher sleeve (see Hospata for a description.), and a cup from your nurse. You could mention you're making a layer cake but definitely don't mention the name. Separate the bottom layer of cake and top layer of cake from the cream layer, putting the cream layer in the cup and the two layers bottom sides down on a plate. Cut a sleeve so that it's three times as tall as the bottom layer. Add coffee to be about a third of the height of the bottom layer height. Stir in a dash of salt, two pinches of brown sugar and taste. we're going for cafeteria coffee with a hint of caramel. Once you're happy with the flavor add the bottom layer and let soak. Add the same amount of yogurt to the cup as there is cream. Stir and taste, it should now be tangy vanilla cream. Add yogurt, cream cheese, and sugar as desired. Try to whip or at least ensure it's well combined. Turn the top layer on its side and split in half. Make sure you put the frosting side back on it's bottom as it's prone to falling frosting down. This slice is going to be soft so to add texture crumple two big pinches of corn flakes into the vanilla cream and stir. Take bottom layer and place on new plate. Frost with vanilla cream. Take non-frosted layer from the top layer and place on vanilla cream. Spoon more coffee over layer. Frost with vanilla cream. Place top chocolate layer and use the rest of whatever frostings as you see fit and immediately enjoy.
Animal Style:
Ask for two small plates, three plastic water cups and a pill cup from your nurse. Definitely don't mention your project unless you want to embrace being eccentric. The longer you're in the less likely they'll look at you funny because you can say you're just doing it out of boredom. Separate the bottom layer of cake and top layer of cake from the cream layer, putting the cream layer in the cup and the two layers bottom sides down on a plate. Cut the two cake layers into chunks the size of your pinky nail. Cut a plastic cup horizontally in half and place the top upside down on a plate. Place pill cup in the middle. Make the chocolate frosting but use coffee instead of milk and add three extra spoonfuls of coffee at the end. We want this slightly spoonable so we can fill the crags. Combine a dab of butter with the pie cream. Add two parts vanilla yogurt to one part pie cream and mix well. Add half n half if it's still very firm, we want it spoonable. Make the coffee: Fill a cup a third full with coffee. Stir in two dash of salt, 1 spoonful of brown sugar and taste. we're going for cafeteria coffee with a hint of caramel. Add a third of the cake pieces to the mold on the plate. Spoon coffee over all pieces. Spoon half of the cream icing and then half of the chocolate icing over. Add another third of the pieces and spoon coffee and the rest of the cream icing over. Add the last of the cake pieces and spoon coffee then the rest of the chocolate icing over. if you want it extra firm you can ask to have it put in the fridge for an hour. When ready to eat, crumple corn flakes over the top and enjoy.
The End
I hope these reviews and recipes inspired you to squint and tilt the menu funny to see what interesting combinations you can make to help make your stay more entertaining and make your nursing staff concerned about your sanity. Feel free to make your own! Some will fail, I tried to make chocolate orange icing with sweet and sour sauce and it's as bad as it sounds, but any creativity will hopefully keep your spirits up so you can savour the air outside once more. Also, here's the horrors of the tofu and cheese. Kitchens can also be terrible places.